Tokyo Metropolitan Government Selected "Project for Building Business Models Utilizing Autonomous Driving Technology"
- Autonomous Driving in the city center Demonstration of service by taxi -
-Project announcement at the 10th ZMP Forum on July 18th-
 株式会社ZMP(東京都文京区、代表取締役社長:谷口 恒、以下ZMP)は、日の丸交通株式会社(東京都文京区、代表取締役社長:富田和孝、以下日の丸交通)とともに、東京都事業である『自動運転技術を活用したビジネスモデル構築に関するプロジェクト』に選定されました。
The project, ZMP is developing is Autonomous Driving using the vehicle RoboCar® MiniVan, collaborating with taxi operators HINOMARU KOTSU Co.,Ltd. to realize this project responding to the lack of drivers. We will verify the dispatch service using ICT technology.
The contents of this project will be announced on the first day of the "10th ZMP Forum" to be held from July 18th.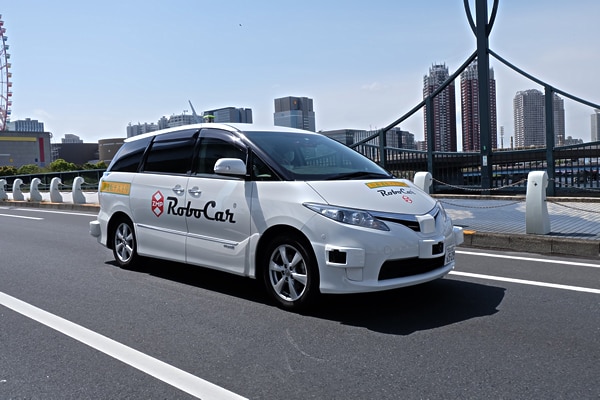 RoboCar® MiniVan during public road demonstration experiment
<Outline of demonstration experiment>
Summary: Utilizing smartphones, we will make Autonomous Driving reservations for taxis, dispatch, charge settlement, etc. Autonomous Driving taxi, the system will automatically operate (lane intervention only in case of emergency) in all lane change, right / left turn, stop etc.
Plans to be implemented: Chiyoda-ku to Minato-ku
<Tokyo Metropolitan Press Release Presentation Material>
http://www.metro.tokyo.jp/tosei/hodohappyo/press/2018/06/08/02.html
ZMP commenced the demonstration experiment of Autonomous Driving in the state of Aichi prefecture's public road in 2014, afterwards, the experiment has been started where traffic volume is extremely high, like towards Bunkyo-ku, Tokyo, where our office is located, and now to 2020.We also develop and verify functions such as lane change and intersection ,right turn and turn in many traffic environment of Odaiba etc. Last December we conducted a public road demonstration experiment with drivers not riding in the driver's seat at the very beginning of the whole country as it was the first demonstration experiment under the support of the Tokyo Auto Travel One Center.
​ ​In June 2017,ZMP started collaborating with HINOMARU KOTSU Co., Ltd. to realize Auto Taxi in responding to the lack of drivers.We will aim to increase the number of users by realizing a more convenient taxi service, aiming for the development of the taxi industry as a whole and is promoting the development and demonstration of this service with the development of technology. ZMP will utilize the findings obtained from this demonstration experiment to further develop the technology and improve safety, aiming to realize an Auto Taxi in 2020.

【10th ZMP Forum Summary】
ZMP Forum 2018 "Change the movement of people and goods with commercialization of Autonomous Driving "
ZMP holds the ZMP Forum annually since 2009, with the desire to contribute to the acceleration of technology development in the world and this will be the 10th time.The program consists of a keynote lecture by Mr. Masashi Sugiyama, Director of RIKEN Innovation Intelligence Integration Research Center. Case introduction and Presentation of new products will be done by ZMP staffs.
Date and time:
   2018年7月18日(水) 10:00~18:00(18:30~ 懇親会)
   2018年7月19日(木) 10:00~17:00(17:00~ 商品デモ&体験会)
   2018年7月20日(金) 10:00~18:00
Venue: Bellesalle Iidabashi (3-8-5 Iidabashi Chiyoda-ku, Tokyo, Sumitomo Real Estate Iidabashi Ekimae Building)
Participation fee: Free (fee is charged for social gathering)
※ The announcement on this project will be on Wednesday, July 18th (Wednesday) 10: 30 ~.

【Program details】
Program details:http://www.zmp.co.jp/products/10th_forum
Day by day schedule are given. (* As of June 13)
【How to apply】
Please apply with the following reservation form.
Participation application form:https://www4.revn.jp/zmpforum2018/
(※ In case you are handling competing products, we may refuse to inform you in advance.)

【Press Release Articles】
You can check press release PDF here.