ZMP's Logistics Support Robot CarriRo® Introduced at Hokkaido's Logistics Warehouse
- Hokkaido Logistics Service, which is responsible for retail logistics, realizing labor saving by cart traction -

CarriRo, a logistics support robot sold by ZMP Inc. (Bunkyo-ku, Tokyo, CEO: Taniguchi Hisashi , hereinafter referred to as ZMP), saves labor and labor burden on labor in the logistics center of Hokkaido Logistics Service Co.We are pleased to announce the case on our website this time.
【CarriRo introduction case introduction】 Hokkaido Logistics Service Co., Ltd.
Example URL:https://www.zmp.co.jp/carriro/detail_hokkaido-logi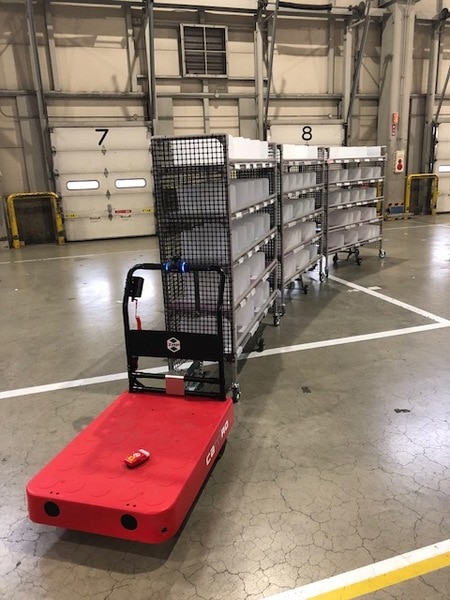 Hokkaido Logistics Service Co., Ltd. was founded in 2012 as a logistics company specializing in retailing for the whole area of ​​Hokkaido.
Mr. Manabe who is the company Executive Officer Senior Operator,commented the business problems as follows.:"The current shortage of talent is a problem that must be given priority over anything.The population ratio is decreasing as the younger age becomes an inverted triangle, and unless some measure is taken promptly, It is said that there is a possibility of "insufficient bankruptcy", and it is urgent to improve the working environment that actively incorporates state-of-the-art technology at an earlier stage than the limited labor force population. "
In the distribution center where the total floor area is about 17 thousand pyong, in the business where movement of item s occurs, the distance traveled by the operator is very long and the working time also becomes long correspondingly, so " We have decided to introduce CarriRo in search of "labor saving" and "improvement of working environment."
The company introduced two CarriRo in June, 2018, experimented and verified for the purpose of labor saving by towing the product transportation cart, and for the purpose of reducing workload on workers. By verifying the cart after the introduction, it is judged that it is possible to make multiple carts that can be pulled by one CarriRo by devising the cart linkage, considering shipping capacity, transfer time, improvement of processing capacity of the receiving side.We added four additional units, and we are proceeding with the total of six units.
As for future developments "We believe that if autonomous mobility becomes possible it will be part of logistics, we are planning to steadily challenge with the site towards complete automation." .


【Logistics Support Robot CarriRoⓇ】
CarriRo is a bogie type logistic support robot that has a drive mode that allows operation with a joystick and in a karugamo mode that automatically tracks a beacon (transmitter), and is a product that began selling in August 2016. In addition, this time, autonomous movement mode which recognizes the landmark with the installed camera and runs automatically is added, without human maneuvering.
By utilizing CarriRo's function, we aim to increase transportation productivity. CarriRo alone can carry baggage of up to 150 kg to CarriRo with an optional towing jig so that it can carry about 300 kg of baggage for 8 hours in a row and improve the efficiency of picking operations in the warehouse and distribution center.It is also possible to substitute a belt conveyor or AGV (automatic guided vehicle) by using it for inter-process conveyance.Moreover, since work load is greatly reduced, it becomes possible for women and elderly people to carry out the transportation work which was regarded as heavy work so far, so it is effective for expanding workers and promoting employment.


[Product Web URL]​ ​https://www.zmp.co.jp/carriro/
【Video】https://youtu.be/aBSwF8SvfcU
【Price】 CarriRo 2018 model (following function) 5 years lease monthly amount 28,000 yen (excluding tax) / 1 unit
​ ​​ ​​ ​CarriRo Autonomous movement model:52,000 yen per month (excluding tax) / unit with 5 years lease​ ​


[Press Release Article]
​