Announcement of Distribution support robot CarriRo® co-operation with Co-op Sapporo "Auto Store"
- Presenting a press announcement as a solution to increase handling items in the shortage of manpower -
Co-op Sapporo is the first in Hokkaido's logistics department of supermarket, to initiate picking process for home delivery in Todoc in Hokkaido Logistics Service Co., Ltd. (Ebetsu Higashinopporo), an affiliated company responsible for logistics.We introduced the the logistic support robot "CarriRo" at "Auto Store" and held a press conference on 30th August.
Auto store is effective for improving the efficiency of picking work, but as it is it is necessary to manually transport the goods after picking. Therefore, in order to save labor in the whole warehouse, we will use CarriRo to carry out the products from the auto store and transport them to the sorting / packing place.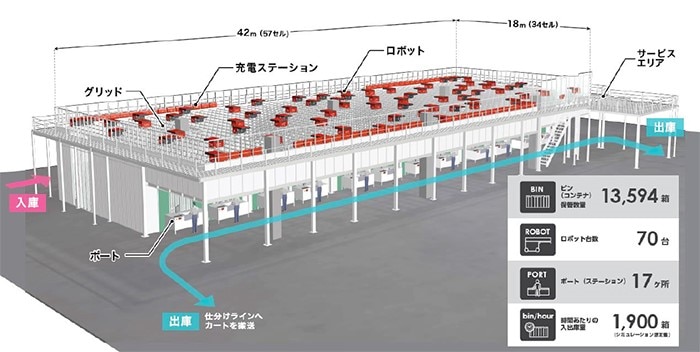 Utilizing CarriRo for cart transport after picking from the auto store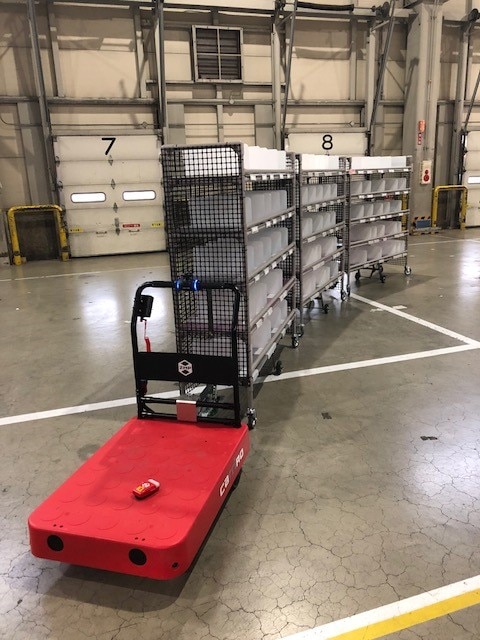 Convey multiple carts at the same time using carriro
In Hokkaido Logistics Service, six CarriRo`s were introduced in search of "labor saving" and "labor environment improvement", after devising the cart consolidation.We used a single car to tow a plurality of carts and utilized it.CarriRo(Autonomous movement model)will be on sale from November, our biggest goal is to steadily challenge with the worksite towards "full automation".

In addition, the company will handle CarriRo as a distributor in the future and plan to propose practical application methods to customers mainly in Hokkaido while observing their own site.We will conduct the CarriRo introduction explanatory meeting nationally which is scheduled to be hosted by ZMP on October 19 (Fri) and 20 (Sat) next month.The opening hours are 9: 30/11: 30/14: 00/16: 00 each day. If you do not mind, please register from 【participation application page】.

【Participation Application page】
Please join us by registering from below link.
Registration Form:​ ​https://goo.gl/6e1UVf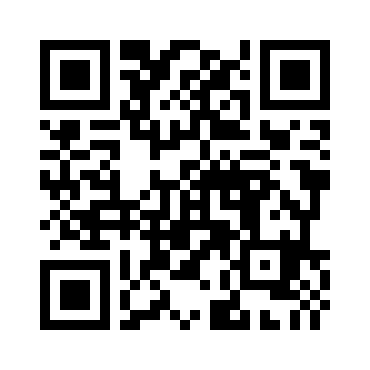 * QR code is a registered trademark of DENSO WAVE INCORPORATED.

【Logistics Support Robot CarriRoⓇ】
CarriRo is a bogie type logistic support robot that has a drive mode that allows operation with a joystick and in a karugamo mode that automatically tracks a beacon (transmitter), and is a product that began selling in August 2016. In addition, this time, autonomous movement mode which recognizes the landmark with the installed camera and runs automatically is added, without human maneuvering.
By utilizing CarriRo's function, we aim to increase transportation productivity. CarriRo alone can carry baggage of up to 150 kg to CarriRo with an optional towing jig so that it can carry about 300 kg of baggage for 8 hours in a row and improve the efficiency of picking operations in the warehouse and distribution center.It is also possible to substitute a belt conveyor or AGV (automatic guided vehicle) by using it for inter-process conveyance.Moreover, since work load is greatly reduced, it becomes possible for women and elderly people to carry out the transportation work which was regarded as heavy work so far, so it is effective for expanding workers and promoting employment.

[Product Web URL]​ ​ https://www.zmp.co.jp/carriro/
【Video】https://youtu.be/aBSwF8SvfcU
【Price】CarriRo 2018 model(Following function):28,000 yen (excluding tax) per month/ unit with 5 year lease
​ ​​ ​​ ​CarriRo Autonomous movement model:52,000 yen per month (excluding tax) / unit with 5 years lease​ ​
[Press Release Article]
​