New version CarriRo® and CarriRo® Deli exhibition at the new value creation exhibition 2018
-Talk on The Latest in Robot Cars! ~The Impact of Practical Use of Autonomous Driving Technology~ by CEO Mr. Taniguchi from 12: 00-13: 00 on Wednesday-


CarriRo® "Autonomous Movement Model" and Landmark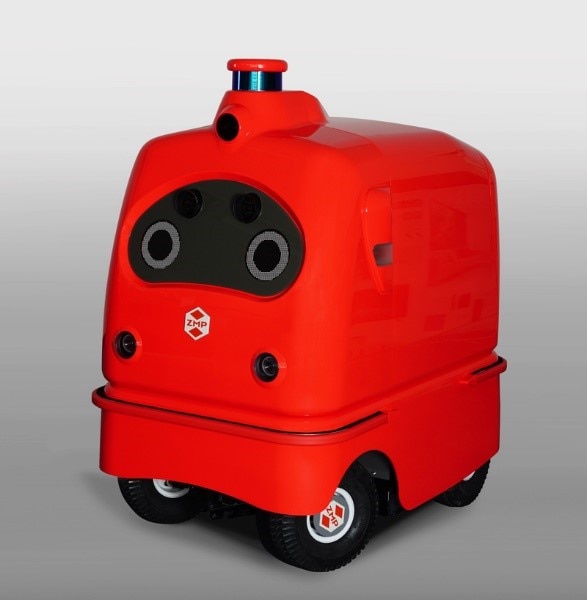 Delivery robot CarriRo® Deli
ZMP Inc. (Bunkyo-ku, Tokyo, CEO: Taniguchi Hisashi) will exhibit new products and services that utilize our robot technology and Autonomous Driving technology at New Value Creation Exhibition 2018.Venue is Tokyo Big Sight · East 2-3 Hall from November 14th (Wednesday) to November 16th(Friday).Exhibition of Autonomous car, the demonstration of the logistic support robot CarriRo ®, exhibition of the delivery robot CarriRo® Deli will be carried out. The New Value Creation Exhibition introduces superior products, technologies and services owned by small and medium enterprises throughout Japan. This time around 670 companies are participating, and we are expecting around 40,000 visitors. Our Company CEO Mr.Taniguchi will talk on `The Impact of Practical Use of Autonomous Driving Technology` on 14th Wednesday.
The logistics support robot CarriRo® has been equipped with an electric drive mode and a follow-up karugamo mode, improving productivity while reducing work load on workers in the distribution of warehouses, factories, hotels, etc. In response to the needs of companies with problems due to lack of personnel, we recently announced the "Autonomous Movement Model" equipped with autonomous function. We started the shipping in November this year. To everyone visiting can see the CarriRo® demonstration which is running automatically as instructed while reading the sticker on the floor.
In addition, we will exhibit CarriRo® Deli, an autonomous home delivery robot. Fully remodeled design, size, user interface etc. for real service. Robot main body improves adaptability to driving environment by making it smaller than previous model. According to the store's needs, it can be replaced with lockers of various box size and number. By enriching "facial expression" as a point of contact with users, we have evolved communication means with surroundings. On the IT side, from ordering products to settlement, User application that can release key by QR code reading, Shop application that supports order management at shops and product loading to each locker. We are planning to provide a remote monitoring system that can manage position / status and remote control in case of emergency.
【Exhibition Information】 New Value Creation Exhibition 2018
Schedule: Wednesday, 14th November - Friday, 16th November, 10: 00-17: 00
Venue: Tokyo Big Sight East 2-3 Hall Special Exhibition Booth S-104
Organizer: Independent Administrative Agency SME Infrastructure Development Organization
Official site:​ ​https://shinkachi-portal.smrj.go.jp/event/shinkachi2018/
* Special exhibition:https://shinkachi-portal.smrj.go.jp/event/shinkachi2018/special-exhibition/
Stage program:
https://shinkachi-portal.smrj.go.jp/event/shinkachi2018/session_group.php
※ There will be a talk by Mr. Taniguchi ,CEO of our company at the main stage on Wednesday from 12:00 to 1:00 pm.
【Logistics Support Robot CarriRoⓇ】
CarriRo® is a bogie type logistic support robot that has a drive mode that allows operation with a joystick and a karugamo mode that automatically tracks a beacon (transmitter) and is a product that began its sale from August 2016. In addition, this time, autonomous movement mode which recognizes the landmark with the installed camera and runs automatically without human maneuvering is demonstrated.
By utilizing the CarriRo® function, we aim to increase transportation productivity. CarriRo® alone can carry baggage up to 150 kg and upto 300kg with an optional towing jig about 300 kg for 8 hours in a row and improve efficiency of picking operations in warehouses and distribution centers. It is also possible to substitute a belt conveyor or AGV (automatic guided vehicle) by using it for inter-process conveyance in the factory. Moreover, since work load is greatly reduced it becomes possible for women and elderly people to carry out the transportation work which was regarded as heavy work so far, so it is effective for expanding workers and promoting employment.

【Product Web URL】https://www.zmp.co.jp/carriro/
【Video】https://youtu.be/aBSwF8SvfcU
【Price】      
CarriRo® 2018 model (following function) 5 year lease price 28,000 yen/month (excluding tax) / 1 unit
CarriRo® Autonomous Movement Model 5 year lease 52,000 yen/month (excluding tax) / 1 unit
【Main Specifications】
Body weight: 55 kg
Traction force: 250 N (300 kg equivalent) * It depends on the road condition and the condition of the trolley.
Size: Width 61 cm × depth 91 cm × height 24 cm * Handle part 96 cm
Charging time: 2.5 hours
Maximum loading load: 150 kg
Operating time: 8 hours * It may differ depending on the operation status
Maximum speed:Upto 6 km
【Delivery Robot CarriRo ® Deli】
CarriRo® Deli is an autonomous home delivery robot applying Autonomous Driving technology. Robot main body, shopper / store application, IT service will be packaged and planned to be offered.
 http://www.zmp.co.jp/products/carriro-delivery

【Main Specifications】
Power: Electric
Maximum speed:Upto 6 km
Size: Width 65.4 × Length 96.2 ×Height 95.6
Drive: 4 wheels (rear wheel drive)
Maximum loading load: 50 kg
【Press release article】
​