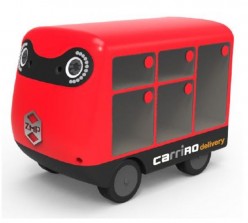 Japan first launched recruitment of a demonstration partner of "CarriRo Delivery", a home delivery robot that runs automatically on sidewalks
Japan's first home delivery robot that automatically runs on the sidewalk "CarriRo Delivery"
Started recruitment of demonstration experiment partner
- Development challenge spiritual development engineer · Project manager · Business promoter recruitment -
​
Today, ZMP ZMP Inc. (Bunkyo-ku, Tokyo, CEO: Taniguchi Hisashi , hereinafter ZMP) is looking for a demonstration experiment partner of a home delivery robot "CarriRo Delivery" We will start.
In 2014, we began developing the logistic support robot " CarriRo ", which we began shipping last year. CarriRo Delivery, which is starting a demonstration experiment this time, is a home delivery robot that carries a home delivery box on the loading platform and enables automatic traveling outdoors. Currently, functional verification etc. by robots for demonstration experiments are in progress aiming at traveling on the sidewalk while recognizing the surrounding environment and delivering the baggage to the destination.
We are looking for partners to carry out demonstration experiments toward commercialization and service start of this robot. Demonstration experiments are carried out with businesses who have problems with manpower shortage of delivery staff, such as supermarkets, convenience stores, drug stores, cleaning, food delivery such as sushi, hamburgers and pizza, beverage makers, vending machine manufacturers, We will verify the extraction and the effectiveness of issues to start services. Due to the number of robots for demonstration experiments, we are assuming a demonstration experiment with one company per industry.
We will also start hiring development engineers, project managers and business promoters toward commercialization of this robot. We are looking for a wide range of challenging spirit members for the realization of Japan's first home delivery robot service.
In addition, this robot is planning to make a press announcement at the 9th ZMP Forum to be held from 11th to 13th July.
* According to our survey
** We will comply with laws and regulations for demonstration experiments and service implementation
【Delivery Image using CarriRo Delivery】
Web site (with video) URL:http://www.zmp.co.jp/products/carriro-delivery


Information on ZMP FORUM is here:http://www.zmp.co.jp/products/9th_forum
[Press Release Article]