Commenced public road data image data set service for automatic driving AI software development started

Commenced public road data image data set service for automatic driving AI software development started
- Stereo camera · 3DLiDAR · IMU synchronized in milliseconds.
Also supports annotation segmentation -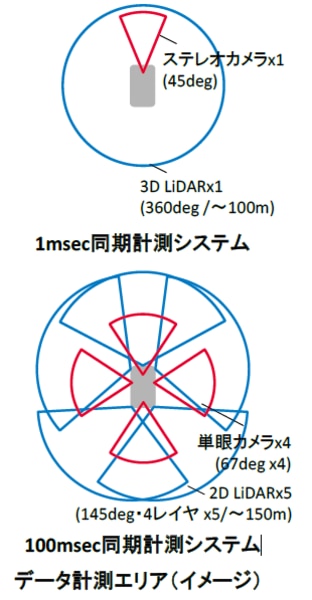 This time, ZMP Inc. (Bunkyo-ku, Tokyo: CEO: Taniguchi Hisashi, ZMP below) is for Autonomous Driving AI software development We started official road image data set service.
 自動運転のためには、公道で遭遇する様々なシーンにおいて、正しく状況を把握し判断を行うAIソフトウェアが必要となります。これらのアルゴリズムの開発・検証においては、走行時の映像と映像内に登場する車両や歩行者などの距離を正しく把握する必要があり、映像と高精度に同期されたレーザセンサデータが求められております。
This dataset service consists of video, stereo camera, 3DLiDAR, IMU data (precisely relative calibrated) synchronized in 1 msec and high-resolution LiDAR data up to about 150 m synchronized in 100 msec We will measure and provide. In addition, we also annotate, semantic and segmentation according to customer's request.
This service will start accepting orders from today with running data of about 10 km (including urban areas and highways) of 3 million yen (excluding tax) ~.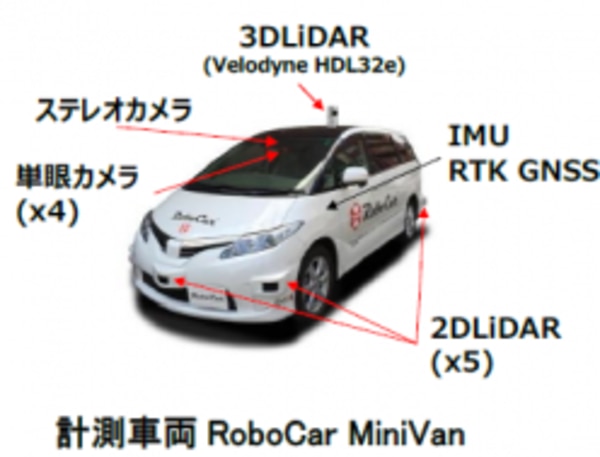 For the first automatic operation EXPO to be held at Tokyo Big Sight from January 17th, we will exhibit the RoboCar MiniVan vehicle used in this measurement and introduce this service.
Travel image data set service
http://www.zmp.co.jp/products/robotest_dataset
【Main data specification】
<1 ms synchronization>
<Stereo camera: Color image (1280 x 960 pixels, horizontal 45 degrees),
 視差画像(基線長210mm)、ポイントクラウド
3DLiDAR: Point cloud (horizontal 360 ° vertical 41.3 °, ~ 100 m)
IMU: Acceleration, Gyro
<100 ms synchronization>
2DLiDAR: Point cloud (horizontal 145 ° vertical 4 layers 3.2 ° × 5, ~ 150 m)
Monocular camera: 1.2 M × 2, 2.3 M × 2
<Common>
RTK GNSS: Position data
CAN: vehicle speed, 4 wheel speed, accelerator pedal / brake pedal stroke, steering angle, etc.
【Exhibition Exhibit Information】 1st Automatic Operation EXPO
会期: 2018年1月17日(水)~19日(金) 
Venue: Tokyo Big Sight (Booth No. E 55 - 20)
Outline of the exhibition: http://go.zmp.co.jp/automotiveworld2018
【価格】 
(Reference example) When driving about 10 km, 3 million yen (tax not included) ~
We will propose according to your request. Please inquire in detail.
[Contact details for inquiries]
ZMP Inc. New Business Development Department
TEL: 03-5802-6901 / FAX: 03-5802-6908 E-Mail: info@zmp.co.jp
プレスリリース記事 
​