[Introduction case introduction] Logistic support robot CarriRo® Introduced into NEC's work efficiency improvement in NEC Fielding process logistics (Mizusushi)
【Introductory case introduction】 Logistics support robot CarriRo®
Introduced into efficient operation of NEC Fielding process logistics (Mizusushi)
- "easy operation" "selectable without changing the existing environment as much as possible" selection point -
Logistics support robot CarriRo sold by ZMP Inc. (Bunkyo Ward, Tokyo, CEO: Taniguchi Hisashi, hereinafter referred to as "ZMP") is a logistics intermediary at NEC Fielding's core logistics center (Mizushimashi ) In order to improve work efficiency in the introduction. We are pleased to announce the case on our website this time.
CarriRo introduction case introduction NEC Fielding Co., Ltd.
https://www.zmp.co.jp/carriro/detail_nec.html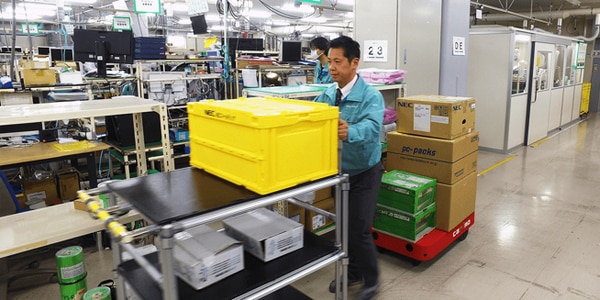 NEC Fielding provides a variety of services to answer your requests and supports the business by "activities of customer base closely tied to the customer's site". In recent years, we have focused on outsourcing business, there is no support base nationwide and it is impossible to respond promptly, because after sales service is also concurrently held by sales person, we can not focus on original sales activities nationwide By utilizing a service base network, we are contributing to solving customer problems and increasing sales.
Mr. Fukaikai, Manager, Corporate Planning Department at the company, commented on business issues as follows when introducing CarriRo.
"It was necessary to respond to the anticipated labor shortage and work to secure further workforce.The ratio of occupying more than 50s in all employees now is 62.6% compared with 28.3% in 2026, It is assumed that the proportion occupied by over 50s will increase sharply.
For that reason, we had to look forward to the future from this stage and take action. At the Kawasaki Technical Center, the core logistics center that introduced CarriRo, we are continuously reviewing work efficiency and facilitation, including the adoption of the Toyota production system from 2005, with a view to aging in the future. We were seeking measures to improve efficiency. "Mr. Deep Sea cited as the reason for choosing CarriRo," Easy operation by anyone "," Introduced without changing the existing environment as much as possible ".
He commented on expected anticipated effects and future developments as follows.
"We are aiming to optimize the operation of misuse (process-to-process logistics) operation of the Kawasaki Technical Center.
Currently, we are introducing it in some areas, and we anticipate efficiency of workers. Concretely, we had conventionally circulated different routes at the same time by multiple workers, but by introducing the caliro, we can carry loads up to 3 times as much as the conventional one at once, so we can integrate the route, maintain JIT Even though it is supposed to be able to operate with optimum personnel.
Currently, only part of the floor of the Kawasaki Technical Center utilizes CarriRo, but we are planning to develop CarriRo operation throughout Kawasaki Technical Center. Also, by utilizing the technology such as CarriRo and RFID together, we will explore when, where, who can do · what · what · can · make · inventory · warehousing · inventory management visible so that work efficiency can not be improved I will. Eventually, we will aim to be a warehouse that is fully automated warehouse type and allows people and robots to work efficiently. "
About CarriRo
CarriRo is a cart type logistics support robot with a drive mode that allows operation with a joystick and a kalargo mode that automatically tracks a beacon (transmitter).
It is capable of carrying rechargeable baggage up to 150 kg for 8 hours continuously, making it efficient for picking operations in warehouses and distribution centers, and for inter-process conveyance in the factory.
[website]https://www.zmp.co.jp/carriro/
[Movie]https://youtu.be/a1Tw9W7IDYE
【Price】
5 year lease monthly charge 28,000 yen (excluding tax) / 1 unit
Press Release Articles