第10回ZMPフォーラム 7月18~20日開催(参加費無料) 講演プログラム公開&予約開始のご案内 『自動運転の商業化で人とモノの移動を変える』
- Auto taxi · Delivery robot CarriRo Delivery · Logistics support robot CarriRo,
ADAS · New efforts to accelerate development of autonomous driving technology · Announcement of new products / services -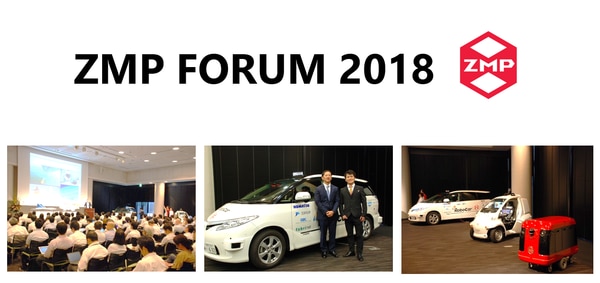 ZMP Corporation (Bunkyo Ward, Tokyo, CEO: Taniguchi Hisashi ) announces the lecture program of ZMP Forum 2018 to be held from Wednesday, July 18, 2018 to Friday the 20th (Friday), in front of Bellesalle Iidabashi Station.We will inform you when we have start the reservation.

ZMP holds the ZMP Forum annually since 2009, with the desire to contribute to the acceleration of technology development in the world. The 10th round of milestones this time will be the theme of "changing the movement of people and goods with commercialization of Autonomous Driving ".We will hold it for 3 days from Wednesday, July 18, 2018 (Friday) to 20th,at Bellesalle Iidabashi Ekimae.
To transform the movement of people and goods we will announce new services "Auto Taxi ®", "home delivery robot CarriRo® Delivery" latest efforts, ADAS · of "logistics support robot CarriRo®" Autonomous Driving various ZMP new products to accelerate the technology development. Keynote speech is by the machine learning field guru, the Institute of Physical and Chemical Research innovation intelligence integration Research Center / University of Tokyo, Graduate School of Frontier Sciences, Professor Masaru Sugiyama teacher,and lecture by the leading expert in the field of artificial intelligence and Autonomous Driving ,also introduce examples of utilization by companies and researchers who use our products.
Registration fee is free with pre-registration system, application acceptance will start from today from the special reservation form.
【Summary】 
Theme: "Change the movement of people and goods with commercialization of Autonomous Driving "
Date and time:
July 18, 2018 (Wednesday) 10: 00 ~ 18: 00 (18: 30 ~ social gathering)
July 19, 2018 (Thursday) 10: 00 ~ 17: 00 (17: 00 ~ Item Demo & Experience Meeting)
July 20, 2018 (Friday) 10: 00 ~ 18: 00
Venue: Bellesalle Iidabashi (3-8-5 Iidabashi Chiyoda-ku, Tokyo, Sumitomo Real Estate Iidabashi Ekimae Building)
Participation fee: Free (social gathering will be charged)
【About the program】
· Keynote lecture
"The latest trend of artificial intelligence research"
 理化学研究所革新知能統合研究センター センター長
 東京大学大学院新領域創成科学研究科 教授 杉山 将
· Special lecture
"Next Generation Mobility Strategy"
 内閣官房日本経済再生総合事務局 内閣参事官 佐野 究一郎
· Case Lecture
"Study of stereo technology robust to changes in driving environment using RoboVision 2"
  豊田工業大学 名誉教授 三田 誠一
"Democratization of Autonomous Driving by university departure venture"
 東京大学大学院 情報理工学系研究科准教授 加藤 真平
"FY 2017: Efforts of Autonomous Demonstration Experiments on General Roads"
 (株)アイサンテクノロジー
※ The above will be a partial lecture that the details will be confirmed at the present moment. Many other user case lectures are also planned.
Other programs will be announced on our website as soon as the program chart is confirmed.

【Program details】
Program details:http://www.zmp.co.jp/products/10th_forum
Programs of each day is disclosed. (* As of May 22)
【How to apply】
Please apply with the following reservation form.
Participation application form:https://www4.revn.jp/zmpforum2018/
(※ In case you are handling competing products, we may refuse to inform you in advance.)

【Press Release Articles】
You can check press release PDF here.