Started receiving order for Logistic support robot CarriRo® towing options for the distribution industry
- One-touch removable towing option on slim cart -
ZMP Inc. (Bunkyo-ku, Tokyo, CEO: Taniguchi Hisashi , hereinafter referred to as ZMP) today announced the acceptance of a new model developed mainly for customers in the distribution industry as a driving option of the logistic support robot CarriRo.Distribution Support Robot,CarriRo is a product developed by applying ZMP's Autonomous Driving technology to a bogie to reduce transportation workload, to reduce labor and efficiency, to carry out picking operations of the logistics warehouse and processes in the factory.Introduction is spreading through the in-store logistics such as stations, airports, commercial facilities, etc., in addition to inter-transfer.
We received many opinions from the customers using the CarriRo with towing options that started selling in April 2018 like to make it easier to install and dismount them, or to store them on the CarriRo side when not in use. In response to such requests, we are working with development cooperation of Ueda Co., Ltd., a food distribution company using CarriRo,making it ideal for six-wheel trucks (slim carts), a towing option for the new model which are particularly frequently used by customers in the distribution industry .

This makes it possible to store the towing attachment on the CarriRo side when not in use, hanging it on the slim cart with a single touch at the time of towing, contributing to further improvement in transportation efficiency by drastically reducing the trouble of attaching and detaching.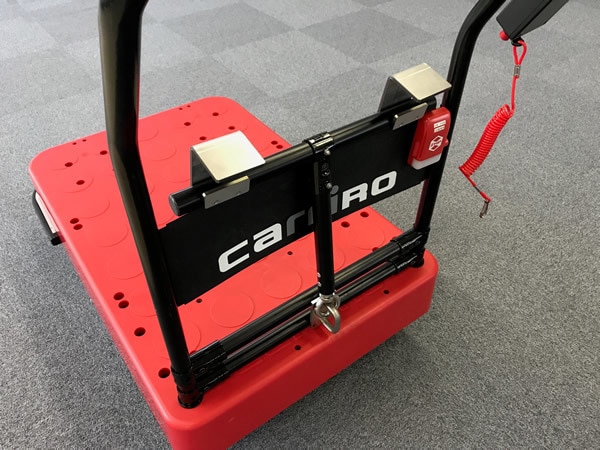 When stored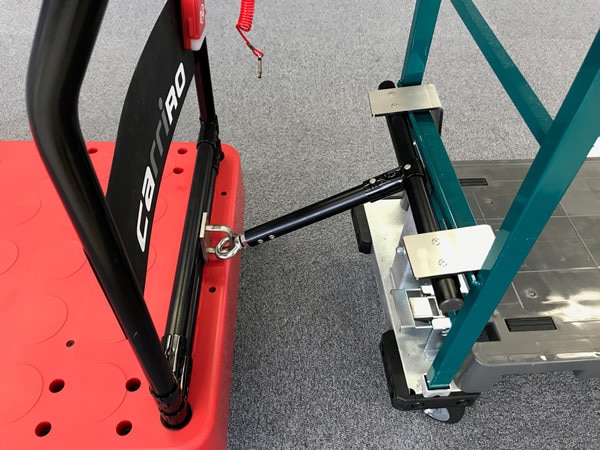 At installation
【Price】
¥ 80,000 (excluding tax) / piece
【Logistics Support Robot CarriRoⓇ】
CarriRo is a bogie type logistic support robot that has a drive mode that allows operation with a joystick and a karugamo mode that automatically tracks a beacon (transmitter), and is a product that began selling in August 2016. In addition, this year, autonomous movement mode which recognizes the landmark with the installed camera and runs automatically is added, without human maneuvering.
By utilizing CarriRo's function, we aim to increase transportation productivity. CarriRo alone can carry baggage up to 150 kg, CarriRo with optional traction fixture, can carry about 300 kg of baggage for 8 hours continuously, improve efficiency of picking operations in warehouses and distribution centers, it is also possible to substitute a belt conveyor or AGV (automatic guided vehicle) by using it for inter-process conveyance. Moreover, by greatly reducing the workload, it will be possible to expand the workers and encourage employment,and also women and elderly people can carry out the transportation work which had been regarded as hard labor until now without a burden.
[Product Web URL]​ ​ https://www.zmp.co.jp/carriro/
【Video】https://youtu.be/aBSwF8SvfcU
【Price】CarriRo 2018 model (following function) 5 years lease Monthly 28,000 yen (excluding text) / 1 unit
CarriRo autonomous movement model 5 years lease monthly charge 52,000 yen (excluding tax) / 1 unit
【Main Specifications】
Body weight: 55 kg
Traction force: 250 N (equivalent to 300 kg)​ ​* It depends on the condition of the road and boggie.
Size: Width 61 cm × depth 91 cm × height 24 cm* Handle part is 96 cm
Charging time: 2.5 hours
Maximum loading load: 150 kg
Working time: 8 hours* It may be different depending on the operating condition
Maximum speed: 6 km / h
※ Although the above specifications of "Autonomous Moving" model are basically assumed to be the same as the 2018 model (Following model).There is a possibility of change in the future.​ ​

[Press Release Article]
​