Logistics support robot CarriRo® explanatory session to be held nationwide
- To be held in 6 major cities across Japan. New version,Autonomous movement model can be experienced -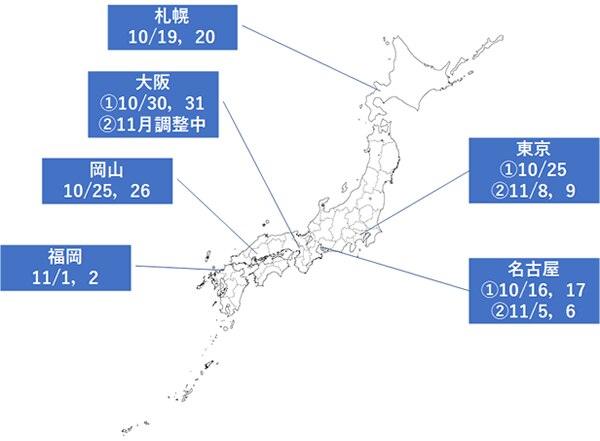 Venue and Schedule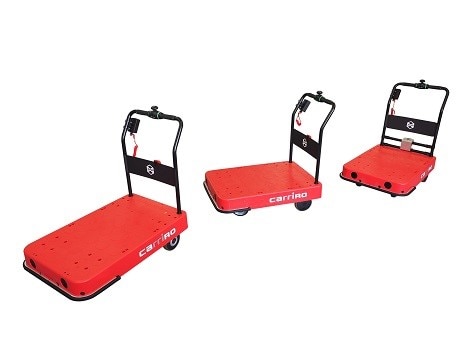 CarriRo Autonomous movement model and Following model
ZMP Inc. (Bunkyo-ku, Tokyo, CEO: Taniguchi Hisashi, ZMP hereafter) starts shipping autonomous movement model of the logistic support robot CarriRo from November 2018.As an opportunity to consider the introduction for that release, we will hold a "nationwide introduction briefing session" in preregistered systems in major cities throughout Japan, in cooperation with CarriRo agents and partners.
The logistic support robot CarriRo is a product developed by applying ZMP's Autonomous Driving technology typified by the service demonstration of Auto taxi® conducted in Tokyo the other day. We are carrying out sale with the aim of saving people and improving efficiency by reducing the burden of carrying work in the logistics industry, which has become a rapid manpower shortage due to the declining birthrate and aging population. Currently the introduction is spreading through picking operations at logistics warehouses, inter-process delivery within the factory, logistics at stations, airports and commercial facilities. The 2018 model which realized the improvement of the payload weight and further driving stability improved the utilization method by installing the autonomous movement function. Please take this opportunity to see the real product.

【Summary of national introduction meeting】
Each time: 9: 30/11: 30/14: 00/16: 00
10月
16th (Tuesday), 17th (Wednesday): Nagoya
Toppan Printing Co., Ltd. Chubu Division 19 Noneamachi Nishi-ku Nagoya-shi
19th (Friday), 20th(Saturday): Hokkaido
Hokkaido LOGISTICS SERVICE CO., LTD. 28-7 B Higashinohoro Town, Ebetsu City Hokkaido​​​
25th (Thursday), 26th (Friday): Okayama
Binho Holdings Co., Ltd. Shimonaka-nano, Kita-ku, Okayama City 717-103
25th (Thursday): Tokyo※満員御礼につき締め切りました
Logistics Operations Service Co., Ltd.​ ​
Tokyo Ginza Ward, Nishi Gotanda 1 - 31 - 1 Issue Nippon Life Gotanda Building
30th (Tuesday), 31th (Wednesday): Osaka
Sanyo Osaka prefecture Osaka shi Chuo-ku Minamisenba 1-16-4
11月
1st(Thursday), 2nd (Friday): Fukuoka
NIPPON FILING CO.,Ltd.
Fukuoka City Hakata-ku 10-1 Kagoro-machi Hakata Mitsui Building B1F A meeting room
5日(月)※9:30の回は締め切りました、6日(火)※16:00の回は締め切りました:名古屋
Toyotsu Logistics Service Co.,Ltd
Nagoya-shi Nakamura-ku 9-8 Century Toyota Building 2F Kiteo
8th (Thursday), 9th (Friday): Tokyo※満員御礼につき締め切りました
ProLogis Park Tokyo Daejeon Ota Ward
Under adjustment: Osaka
Prologis Park Mai 3 Osaka Prefecture Osaka City Konohana Ward North
※ Please note that schedule and other details are subject to change on Participation Application page
【Participation Application page】
Please join us by registering from below link.
Registration Form:​ ​https://goo.gl/6e1UVf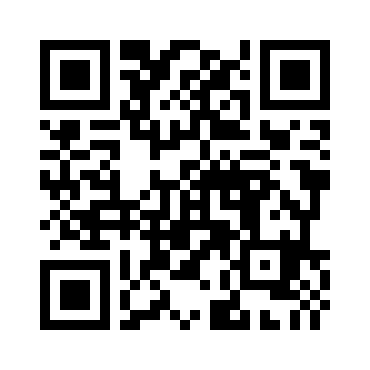 * QR code is a registered trademark of DENSO WAVE INCORPORATED.
[Product Web URL]​ ​https://www.zmp.co.jp/carriro/
【Video】https://youtu.be/aBSwF8SvfcU
【Product price】
CarriRo 2018 model: 5 year lease 28,000 yen/month (excluding tax) / 1 unit
Autonomous movement model: 5 years lease 52,000 yen/month (excluding tax) / 1 unit

【Main Specifications】
Body weight: 55 kg
Traction force: 250 N (equivalent to 300 kg)​ ​* It depends on the condition of the road and boggie.
Size: Width 61 cm × depth 91 cm × height 24 cm* Handle part is 96 cm
Charging time: 2.5 hours
Maximum loading load: 150 kg
Working time: 8 hours* It may be different depending on the operating condition
Maximum speed: 6 km / h
※ Although the above specifications of "Autonomous Moving" model are basically assumed to be the same as the 2018 model (Following model).There is a possibility of change in the future.​ ​

【CarriRo® Homepage】
https://www.zmp.co.jp/carriro/
※ Please check the above link for other case studies.

[Press Release Article]
​