Logistics support robot CarriRo® Slim cart traction + auto follow-up demonstration for the first time released
- Held May 15 · TOSHIBA TEC IoT & Auto ID Solution Fair 2018 (Spring)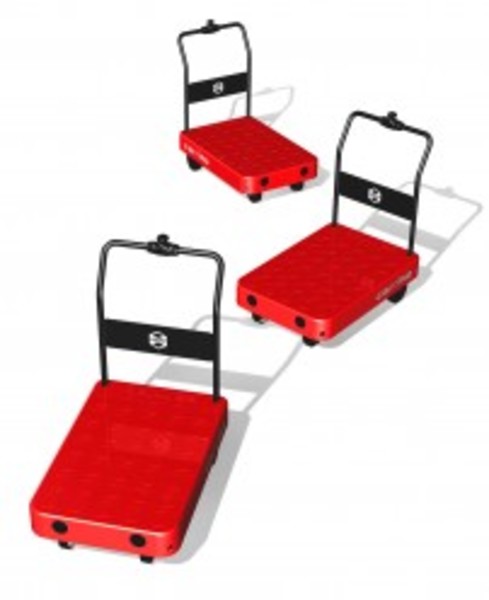 Logistics support robot CarriRo  ​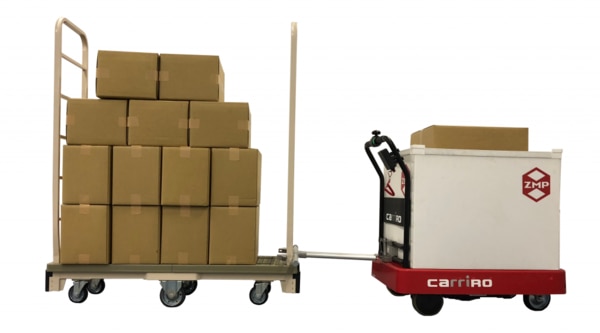 Example of use case: Traction of a six wheel trolley (slim cart)

株式会社ZMP(東京都文京区、代表取締役社長:谷口 恒、以下「ZMP」)は、2018年5月15日に東芝テック株式会社にて開催される「東芝テック IoT&オートIDソリューションフェア2018(春)」にて物流支援ロボット「CarriRo Ⓡ 」(キャリロ)及び今月より出荷を開始した牽引オプションを公開します。

CarriRo is a product developed by applying ZMP's autonomous driving technology to a truck, aiming at reducing the load of carrying work, saving labor and efficiency, with the aim of realizing picking operations of the logistics warehouse and inter- Introduction is spreading through transportation, logistics inside the stations, airports and commercial facilities.

この度、2018年5月15日(火)11:30~17:30、東芝テックにて開催される「東芝テック IoT&オートIDソリューションフェア2018(春)」において最新の2018年モデルCarriRoと昨日出荷を開始した、牽引オプションでの六輪台車(スリムカート)牽引のデモンストレーションを実施します。牽引オプションの一般公開は今回が初めての機会となります。

Utilizing this towing function with CarriRo's "Karugamo" function enables users to carry trucks loaded with a maximum of 300 kg of baggage by walking ahead of CarriRo, reducing the workload and reducing the efficiency of transportation It contributes to improvement. It is possible to do detachment with one touch, which leads to further improvement in productivity.
【Exhibition Information】
名称:東芝テック IoT&オートIDソリューションフェア2018(春)
Date and time of opening: Tuesday, May 15, 2018 11: 30 ~ 17: 30
Venue: Gate City Hall
Address: 1-11-1 Osaki, Shinagawa-ku, Tokyo Gate City Osaki West Tower
Access: JR Osaki Station South entrance ticket gate (New east exit) 1 minute walk
※ There is no private parking lot in the hall, so please use public transportation.
Participation fee: Free (pre-registration system)
website:
https://www.toshibatec.co.jp/event/info/471241010180515/
Exhibition materials:
https://www.toshibatec.co.jp/tecfiles/img/event/info/471241010180515/471241010180515.pdf

【Distribution Support Robot CarriRo (CarriRo)
CarriRo is a trolley type logistic support robot with a drive mode that allows operation with a joystick and a karugamo mode that automatically tracks a beacon (transmitter), and is a product that began selling in August 2016. By utilizing CarriRo's function, we aim to raise the productivity of transportation up to about 3 times. The rechargeable maximum of 150 kg baggage can be carried for 8 hours in a row, the efficiency of picking operations in warehouses and distribution centers, and the use of belt conveyors and AGVs (automatic guided vehicles) It is also possible to substitute. Moreover, since the work load is greatly reduced, it becomes possible for women and elderly people to carry out the transportation work which was regarded as hard labor so far, so it can be used for expanding workers and promoting employment.

【Product Introduction URL】
https://www.zmp.co.jp/carriro/
【Video】
https://youtu.be/ZvrE7N2pNVs
【Price】
5 year lease monthly charge 28,000 yen (excluding tax) / 1 unit
【Main Specifications】
Body weight: 55 kg
Size: width 600 mm, depth 900 mm, height 200 mm (handle portion 900 mm)
· Maximum loading load: 150 kg
· Maximum speed: 6 km / hour
Traction force 250 N (weight 300 kg)
* Depends on road condition and the situation of the trolley.
. Charging time: 2.5 hours
· Operating time: 8 hours (It may differ depending on operating conditions)


[Press Release Article]
​