Started order acceptance of logistics support robot CarriRo® with shelf option for EC warehouse
- Collaborative development with Nippon Filing, demonstration of CarriRo at Logis-Tech Tokyo 2018 -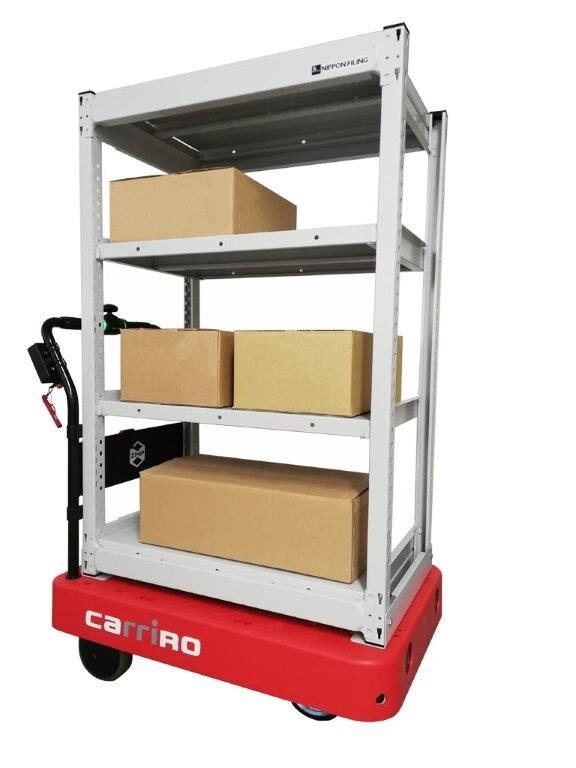 Image
Jointly developed with Nippon Filing Co., Ltd. (Headquarters: Chiyoda-ku, Tokyo; President and CEO: Kentaro Tajima, hereinafter "Japan filing") ZMP Inc. (Bunkyo Ward, Tokyo, CEO: Taniguchi Hisashi, We have started accepting orders for shelf options to be installed in CarriRo, a logistic support robot.
Logistic Support Robot CarriRo is a product developed by applying ZMP's Autonomous Driving technology to a bogie, aiming at reducing the load of carrying work, saving labor and efficiency, with the objective of picking logistics warehouse and in-factory.The introduction is spreading through inter-process transportation, logistics inside the stations, airports, commercial facilities and other facilities.
It is said that customers wanting to install CarriRo's cargo on the carrier of CarriRo from customers who use CarriRo mainly by picking in the warehouse of online shopping which is rapidly expanding recently, in order to improve the loading efficiency and to prevent the collapse of loads I got a lot of opinions.
Therefore, in collaboration with Nippon Filing Co., Ltd., which manufactures and sells storage facilities,we developed CarriRo shelf option.By using CarriRo with shelf option, we contribute to smooth picking and carrying work without worrying about improvement of conveying efficiency and collapse of load.
The shelf option flexibly supports changing the position of the shelf board, adjusting the height, installing a fall prevention bar and partition board.
In addition, this shelf option is installed in the CarriRo autonomous movement model at "Logis-Tech Tokyo 2018" to be held at Tokyo Big Sight from11th (Tue) to 14th (Fri).CarriRo demonstration will be performed.​ ​

【Price】
50,000 yen (excluding tax) / unit
【Shelf Option Specification】
Shelf size (outer dimensions): Frontage 800 mm × Depth 474 mm × Height 1,200 mm
Maximum loading weight: 100 kg / unit
Frame structure: complete boltless
Changing pitch: It can be freely changed at intervals of 30 mm
Selections: Back crimp net, side crimp net, back board, side board, various signs of the shelf, fall prevention device, rotary type drop
There are abundant stock bars such as a lower prevention bar.
【Logistic Support Robot CarriRoⓇ 】
CarriRo is a bogie type logistic support robot that has a drive mode that allows operation with a joystick and in a karugamo mode that automatically tracks a beacon (transmitter), and is a product that began selling in August 2016. In addition, this time, autonomous movement mode which recognizes the landmark with the installed camera and runs automatically is added, without human maneuvering.
By utilizing CarriRo's function, we aim to increase transportation productivity. CarriRo alone can carry baggage up to 150 kg, CarriRo with optional traction fixture, carry about 300 kg of baggage for 8 hours continuously, improve efficiency of picking operations in warehouses and distribution centers, It is also possible to substitute a belt conveyor or AGV (automatic guided vehicle) by using it for inter-process conveyance. Moreover, since work load is greatly reduced, it becomes possible for women and elderly people to carry out the transportation work which was regarded as heavy work so far, so it is effective for expanding workers and promoting employment.
【International Logistics Comprehensive Exhibition 2018】
http://www.logis-tech-tokyo.gr.jp/
【Product Introduction URL】
https://www.zmp.co.jp/carriro/
【Video】
https://youtu.be/ZvrE7N2pNVs
【Price】
CarriRo 2018 model (following function): 5 years lease and Monthly 28,000 yen (excluding tax) / 1 unit
CarriRo Autonomous Movement Model: 5 years lease and Monthly 52,000 yen (excluding tax) / 1 unit
【Main Specifications】
. Body weight: 55 kg
. Size: Width 600 mm × Depth 900 mm × Height 200 mm (handle portion 900 mm)
· Maximum load: 150 kg
· Maximum speed: 6 km / hour
· Traction force 250 N (Weight 300 kg) * Depends on road condition and dolly situation
. Charging time: 2.5 hours
· Operating time: 8 hours (It may be different depending on operating condition)
【Press release article】
​