ZMP and Toppan Printing, Complete Automatic Inventory with Robo × IC Tag
Autonomous mobile mode in which CarriRo® runs automatically and completely unmanned inventory solution with IC tag
Completely autonomous driving realized, development progress is disclosed automatically at comprehensive exhibition
ZMP Inc. (Head Office: Bunkyo-ku, Tokyo, President: Hisashi Taniguchi, hereinafter referred to as ZMP) promotes efforts to realize unmanned conveyance in warehouses and factories by utilizing the logistic support robot " CarriRo ". As a part of that, in collaboration with Toppan Printing Co., Ltd. (Headquarters: Chiyoda-ku, Tokyo, President and CEO: Shingo Kaneko, hereinafter, Toppan Printing), we are developing an unmanned inventory solution combining CarriRo and RFID.

Last year's automatic recognition comprehensive exhibition showed CarriRo's follow-up run by CarriRo by the Autonomous Driving control development vehicle platform "RoboCar®". This year we have completed trial manufacture of CarriRo which runs automatically on a standalone basis and RFID kit towing at the time of inventory.We will publish at the Toppan Printing booth at "The 20th Automatic Recognition Comprehensive Exhibition" (venue: Tokyo Big Sight) to be held from Wednesday, September 12th to 2018 (Friday)

In this solution, CarriRo, which realized perfect autonomous travel by specifying the traveling direction by identifying the landmarks affixed to the road by the camera mounted on CarriRo, RFID equipped with an RFID reader that irradiates radio waves outward By driving the kit, CarriRo reads the RFID while driving unattended. By realizing this solution, we can expect further efficiency improvement and labor saving of inventory work requiring great labor.

ZMP and Toppan Printing will continue to develop and demonstrate this solution and aim to commercialize solutions with CarriRo × RFID as "CarriRo Connect" by 2019.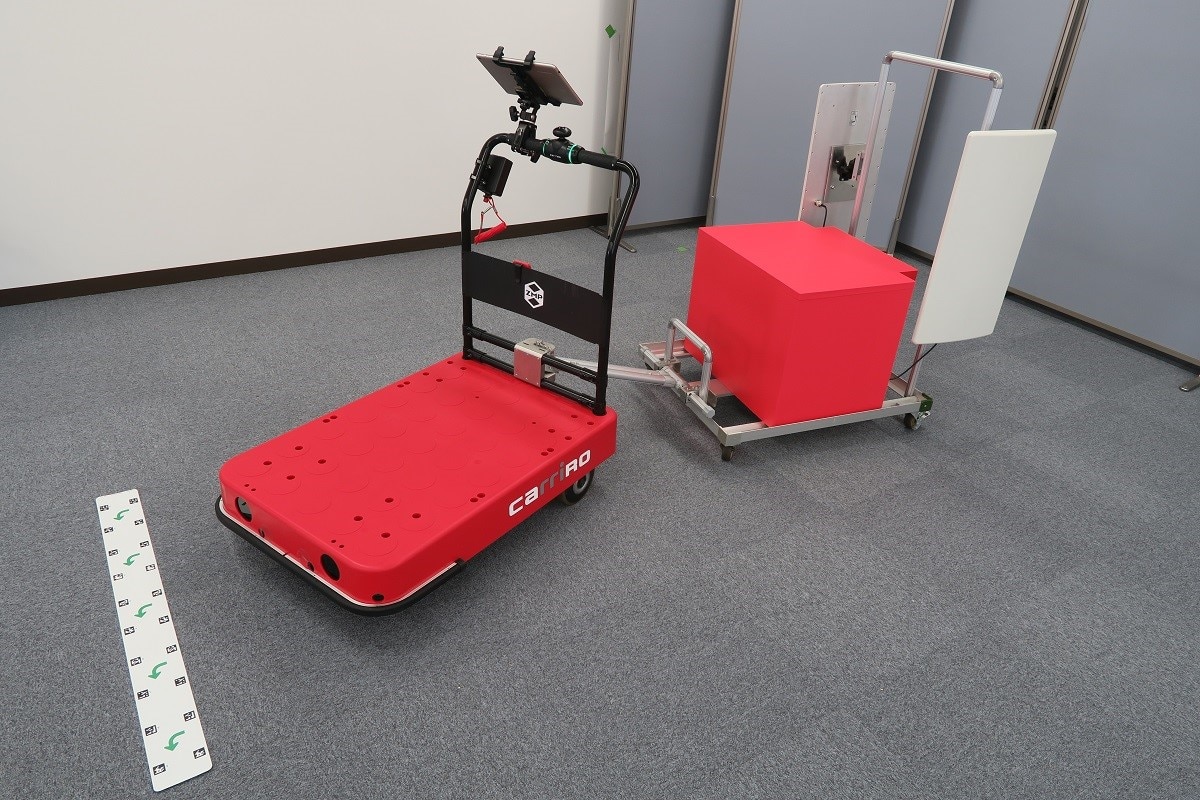 © ZMP Inc. / Toppan Printing Co., Ltd.

■ About the 20th automatic recognition comprehensive exhibition
| | |
| --- | --- |
| Schedule | Wednesday, September 12, 2018 - Friday,September 14,2018 10: 00-17: 00 |
| Venue | Tokyo Big Sight West Hall ※ Toppan Printing Booth: D-05 |
| Official site | |

About CarriRo® (Distribution Support Robot)
CarriRo is a bogie type logistic support robot that has a drive mode that allows operation with a joystick and in a karugamo mode that automatically tracks a beacon (transmitter), and is a product that began selling in August 2016. In addition, this time, autonomous movement mode which recognizes the landmark with the installed camera and runs automatically is added, without human maneuvering.

By utilizing CarriRo's function, we aim to raise the productivity of transportation. CarriRo alone can carry baggage of up to 150 kg to CarriRo with an optional towing jig so that it can carry about 300 kg of baggage for 8 hours in a row and improve the efficiency of picking operations in the warehouse and distribution center.It is also supposed to substitute a belt conveyor or AGV (automatic guided vehicle) by using it for inter-process conveyance. Moreover, since the work load is greatly reduced, it will be possible for women and elderly people to carry out the transportation work which had been regarded as hard work so far,so it is effective for expanding workers and promoting employment.

[Product Web URL]​ ​ https://www.zmp.co.jp/carriro/
【Video】https://youtu.be/aBSwF8SvfcU

【Main Specifications of CarriRo®】
| | |
| --- | --- |
| Body weight | 55 kg |
| Size | Width 600 mm, depth 910 mm |
| Height | 240 mm (Handle part 960 mm) |
| Maximum loading capacity | 150㎏ |
| Maximum speed | 6 km / hour |
| Traction | 250 N (300 kg equivalent) (It depends on road conditions and dolly conditions.) |
| Charging time | Two and a half hours​ ​ |
| Operating time | 8 hours (It may be different depending on the operation situation.) |
Although the above specification of "autonomous movement model" is basically assumed to be the same as the 2018 model (following function), there is a possibility of change in future.


[Toppan Printing Co., Ltd.]
https://www.toppan.co.jp/
Headquarters: Chiyoda-ku, Tokyo
Representative Director: Shingo Kaneko

Since its founding in 1900, Toppan Printing has evolved the origin of "printing art" into "printing technology" and has also worked to expand its business field. Toppan Printing calls "printing technology" here as "the marketing power", "IT power", "creative power", and various processing technologies have fused and evolved. Under this business foundation, we are currently developing business in three fields - "information communication", "living / industry", and "electronics". In the RFID-related business, we have state-of-the-art technology as a pioneer in Japan and develop goods management and asset management solutions using RFID. Many have been introduced to corporate logistics centers and production factories.

* The names of products and services described in this news release are trademarks or registered trademarks of each company.
※ The contents of this news release are as of the date of publication. Thereafter, it may be changed without prior notice.

[Press Release Article]
​